Related Products

German watch€7.99

Beautiful german watch! yellow and black wrist strap with red bezel and German flag on the face with hour, minute and second hands.
Will suit small to large wrists.
Buy any 5 and get the 6th watch free, also comes French and Spanish themed.

German colour wig€5.90

German colour wig,ideal for role plays, European day of languages, school open days or just for fun.

German flag / cape€5.90

German flag which can also be used as a cape. 90X150cm

German flag with eagle. 90X150 cm.

German bracelet€3.00

German bracelet with German flag, adjustable with Deutschland in gold letters on the side.

German LED flashing badge / fridge magnet€3.00

German flashing LED badge / fridge magnet in the shape of a German flag

German flag on pole€2.50

Small German flag on a pole 32cm x 42cm.
Today's great value products
Top Sellers
German class prizes package€63.00 €60.00
German class prize package contains 5 German coloured watches, 10 German reward pencils, 3 sheets of stickers (25 stickers for sheet) and 5 German bracelets. All for 60 euro. Saving you 3 euro.
---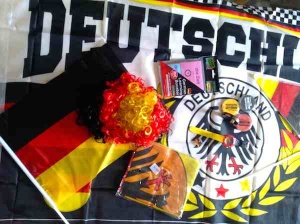 German Starter package 1€58.00
German Starter package contains: 1 large German flag, 1 German cape, 2 small German flags on poles, 1 set German flash sticks (beginners), 1 German watch, 1 German LED fridge magnet / broche, 1 German bracelet, 1 German wig. All for 58 euro including postage.