Top Sellers
---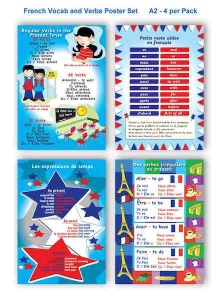 French Wallchart Bundle no1.€26.00 €25.00
French Wallchart Bundle No.1 containing 1. regular verbs in present tense, 1. Petits mots utiles en Français 1. les expressions de temps 1. Des verbes irréguliers au présent.
Related Products

Calendrier perpétuel en tissu€33.00

Perpetual calendar for classroom made of material. Showing date, seasons, weather in French. Suitable for both primary and secondary.

French Calendar€6.50

French Calendar
Practise days of the week, months of the year and weather

J'apprends l'heure€10.00

Poster J'apprends l'heure avec possibilité d'utiliser un feutre effaçable pour s'exercer. En plus, le nom des repas et des exercices pour lire l'heure.

Les nombres de 1 à 100 / Numbers 1 to 100€12.00

Numbers from 1 to 100 in French

Mon premier alphabet€8.00

Very colouful poster with the letters of the alphabet and word association.