Top Sellers
---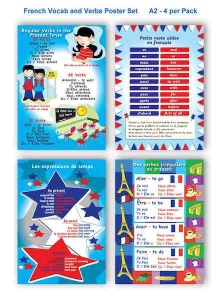 French Wallchart Bundle no1.€26.00 €25.00
French Wallchart Bundle No.1 containing 1. regular verbs in present tense, 1. Petits mots utiles en Français 1. les expressions de temps 1. Des verbes irréguliers au présent.
Related Products

J'apprends à conjuguer (2 côtés)€12.00

7 verbs conjugated in Passé composé, présent and futur simple. This version of the poster has a back with exercises to practise.

French Verb wheel€4.00

French verb wheel with 40 of the most popular irregular French verbs conjugated in the perfect, imperfect, present, future, conditional and subjunctive tenses.