Classroom decoration packages
French Open Day / Celebration of French Package 2€128.00 €110.00

French Open Day package 2 consists of all the products in package 1 as well as a set of 10 French wallcharts and a large shopping bag selected from our wall chart deal for 110 euro, saving you 18 euro.

French Open Day / Celebration of French Package 1€60.00 €55.00

French Open Day Package consists of 1 magnetic memo pad with removable sheets to jot down information for parents, 1 large French flag, 2 medium size French flags on poles, 5 small French flags on poles, 1 French bunting, 1 poster Mes premiers mots, 6 plastic coated french posters, 2 A4 plastic coated french pictures. All for 55 euro.

French theme border bundle€2.40

French theme border bundle

European language wall borders€1.80

European language wall border, each border is 73mm x 990mm. Pack contains 1 French, 1 Spanish and 1 German border.

French stars border€0.60

French stars border
Today's great value products
Top Sellers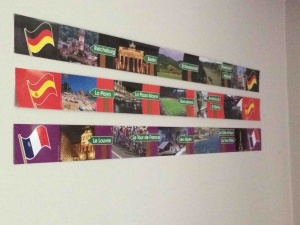 European language wall borders€1.80
European language wall border, each border is 73mm x 990mm. Pack contains 1 French, 1 Spanish and 1 German border.
---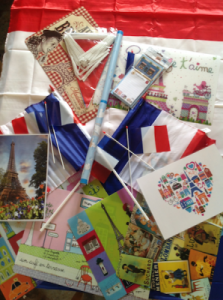 French Open Day / Celebration of French Package 1€60.00 €55.00
French Open Day Package consists of 1 magnetic memo pad with removable sheets to jot down information for parents, 1 large French flag, 2 medium size French flags on poles, 5 small French flags on poles, 1 French bunting, 1 poster Mes premiers mots, 6 plastic coated french posters, 2 A4 plastic coated french pictures. All for 55 euro.