Featured Products

J'apprends à conjuguer (2 côtés)€12.00

7 verbs conjugated in Passé composé, présent and futur simple. This version of the poster has a back with exercises to practise.

Mes premiers posters intéractifs€14.00

3 posters intéractifs et sonores.En appuyant sur chaque touche, découvrez les métiers, les animaux, le corps humain. On peut aussi répondre aux questions posées.

Bonne Année (Red)€3.90

Bonne Année wall decoration (Red) Red background with Silver sparkle letters 50cm x 30cm.

meine Familie€8.00

meine Famile poster A1 size

Star pupil ruler€0.50

Pequeñas palabras útiles en español€6.50

A3 poster. Pequeñas palabras útiles en español.
Top Sellers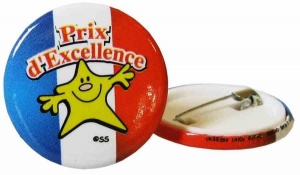 Prix d' excellence badge
---
Today's featured products