Related Products
Also Bought

Certificado del mérito reward certificate€0.45

Certificado del mérito sparkling reward certificate

Mi familia y colores Bookmark€0.25

bookmark: mi familia, los colores y las descripciones

Spanish Days and Numbers Bookmark€0.25

Spanish bookmark. Days, numbers and time expressions.

5 minute Sand timer€14.00

5 minute Sand timer

Avoir et Etre - La conjugaison (double sided)€12.00

Two sided poster of conjugaison of Avoir and Etre in 7 tenses.Exercises at the back to practise.

Bel Effort Green Star Stamper€6.00

Bel Effort Stamper, prints green 28mm in diameter.
Top Sellers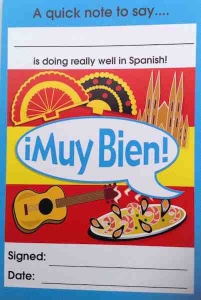 Muy Bien praise notepad with 60 sheets 10cm x 15cm.
---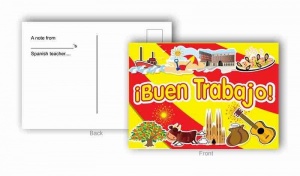 Buen Trabajo Praise Postcard€0.25
A6 size. Ideal for sending home some good news of your pupils' hard work.