Jobs
If you are a qualified teacher and are interested in writing material please e.mail us your CV to info@learnforeignlanguageskills.com
Featured Products

Pequeñas palabras útiles en español€6.50

A3 poster. Pequeñas palabras útiles en español.

Die Fetter Jahre vorbei€10.00

Drama, 126 Min.
Director: Hans Weingartner
Actor: Daniel Brühl, Julia Jentsch, Stipe Erceg, Burghart Klaußner
Film music: Andreas Wodraschke
Language: Deutsch
Sound Format: Dolby Surround Sound 5.1
Picture: Widescreen
Subtitles: Deutsch
Specials: Funny Scenes

Bonne Année Wall decoration (Silver)€3.90

Bonne Année wall decoration (Silver) Gold backgroung with silver sparkles 50cm x 30cm

Beautiful Spanish watch with red silicone wriststrap and Spanish flag on the face will suit small to large wrists.
Buy any 5 and get a 6th watch for free.
Also comes French and German themed.

Mes premiers posters intéractifs€14.00

3 posters intéractifs et sonores.En appuyant sur chaque touche, découvrez les métiers, les animaux, le corps humain. On peut aussi répondre aux questions posées.

This poster is a farm scene with all parts labeled.

Ruler : Spanish Days, Months And Numbers€0.50

Ruler : Spanish Days, Months And Numbers

Mug Arc de Triomphe€3.00

Mug Arc de Triomphe design

J'apprends à conjuguer (2 côtés)€12.00

7 verbs conjugated in Passé composé, présent and futur simple. This version of the poster has a back with exercises to practise.

Silver reward medal€4.00

Silver Reward medal,made from nickel, comes in medium 30mm or large 45mm, you then select the quantity you need and the sticker you want on it. Comes with French colour lanyard.
Top Sellers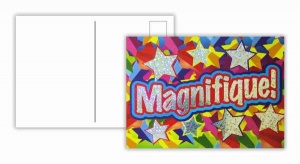 Magnifique Reward Postcard€0.30
Sparkling Magnifique Postcard A6 size and blank on reverse.
---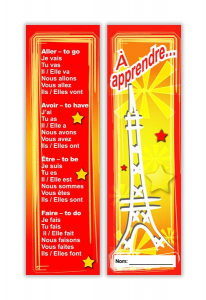 French Verb bookmarker 5cm x 25cm with Aller, Avoir, Être, Faire in the present tense.
Today's featured products