Related Products

El imperfecto: verbos regulares€6.50

A3 Poster, El imperfecto: verbos regulares.

El pretérito: verbos regulares€6.50

A3 Poster, El pretérito: verbos regulares.

Verbos irregulares en presente€6.50

A3 poster. Verbos irregulares en presente.

Verbos regulares en presente€6.50

A3 Poster, Verbos regulares en presente.

¿ser o estar?€6.50

A3 ser o estar poster.

Spanish verb wheel - dry wipe board , dry wipe eraser & dry wipe marker bundle€7.95 €6.00

Spanish verb wheel - dry wipe board , dry wipe eraser & dry wipe marker bundle

Spanish verb wheel - dry wipe board & dry wipe marker bundle€6.00 €5.00

Spanish verb wheel - dry wipe board & dry wipe marker bundle

Spanish verb wheel - dry wipe board bundle€5.50 €4.50

Spanish verb wheel - dry wipe board bundle
Today's great value products
Also Bought

Mi familia y colores Bookmark€0.25

bookmark: mi familia, los colores y las descripciones

Spanish Bumper sticker sheet€1.50

Spanish assorted sticker sheet with 131 stickers per sheet

Spanish bookmark Saludos y Preguntas€0.25

Spanish phrases bookmark.

Black Spanish flamenco hat with red pompons€4.90

Black flamenco hat with red pompons, for role plays or to decorate your classroom.
Top Sellers
---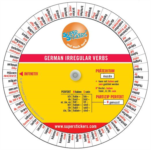 German Verb Wheel€4.00
German Verb Wheel with 100 of the most common irregular German verbs in the infinitive. Each verb is shown in the 3dr person singular of the präteritum as well as the partizip perfekt.