Related Products

In the shape of a jersey. Phone / key holder with clip. Decoration: France and French flag.

French Bunting€4.00

A 10 metre long bunting in the French colours. Ideal for decorating a classroom or for a special event such as open days etc...

French Cape€5.90

Perruque bleu blanc rouge / French wig€5.90

A wig which can be used for French plays, role plays, open days... Bring some fun and colour in your classroom!
Also Bought

French questions and phrases bookmark€0.25

French Questions and phrases bookmark, 5cm x 25cm.

French months & weather reward pencil€0.50

French months & weather reward pencil

French months and weather bookmark€0.25

French Months and Weather bookmark 5cm x 25cm

French Verb wheel€4.00

French verb wheel with 40 of the most popular irregular French verbs conjugated in the perfect, imperfect, present, future, conditional and subjunctive tenses.
Top Sellers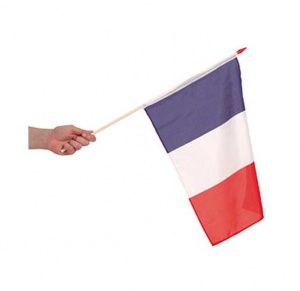 This is a French flag on a pole. Flag made of material. Size: 30cm X 45 cm.
---